Enjoy the outdoors 365 days a year from inside your home.
Our sunrooms are attractive, innovative, and practical. They are custom built to compliment the characteristics of your home while increasing the enjoyment and value of your home. Sunroom enclosures are easily heated and cooled for comfortable enjoyment during every season.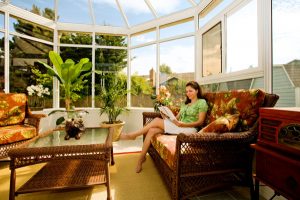 Our three (3″) Inch Sunroom wall system is designed to give you the most usable square footage while maintaining the ultimate energy efficiency. The sunrooms are constructed with virgin vinyl extrusions that are reinforced with steel for undeniable strength.
The high quality, Energy Star rated, Thermo-pane windows are also used for the ultimate energy efficiency and low maintenance. Window sizes are customized for every sunroom, so you have a full view and full sunlight when you want it, no filler panels are used to obstruct your view.
We only use high-quality materials that will provide years of maintenance-free enjoyment.
Designed with Thermally Broken Wall and Roof Panels for use and comfort during all seasons, 365 days a year.